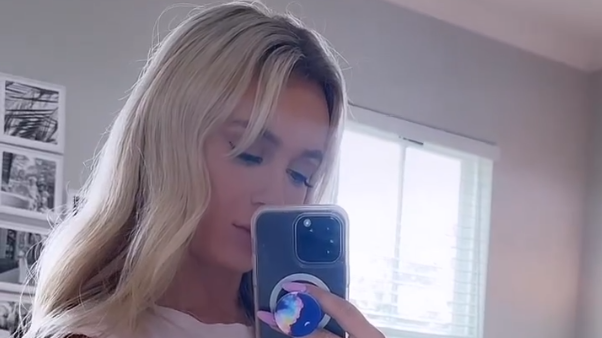 Earlier this year, Jovi Dufren and Yara Zaya were on a tropical vacation … sort of. It was a work trip.
The two were filming for an as-yet-unannounced 90 Day Fiance spinoff with other cast members, including some of the franchise's worst villains.
But what are they up to here and now?
Well, Jovi posted a photo of Yara cradling a tiny belly bump. And fans were quick to bombard the couple with congratulations.
Jovi Dufren and Yara Zaya addressed the topic of Baby #2 at the 90 Day Fiance: Happily Ever After? Season 7 Tell All special.
Having brought up the topic during the season, Jovi was still very much in favor of a second child. He wants to give Mylah a sibling sooner rather than later.
But between carrying a child and childcare itself (remember, Yara has her own job so they are both busy, working adults), Yara wasn't ready yet. But that Tell All special filmed last summer. A lot can change in a short time.
Jovi posted this photo to his Instagram Story this week.
In the process, he ignited a firestorm of pregnancy speculation — and of heartfelt congratulations.
Sure, Ms. Gwen (Jovi's mom, Gwen Eymard) had cautioned them that they're not ready to have two small children. But still, fans were happy for them — even those who shared Gwen's concerns.
As fans commented and messaged Yara to congratulate her, few seemed to pause to think that perhaps they had jumped the gun.
After all, Yara did end up posting her own video, one in which she seemingly showed off a belly bump — alongside a series of pregnancy emojis.
And people who didn't watch it until the end only saw their suspicions confirmed.
But you really, really want to watch these kinds of things until the end. At least, you do if you want the whole story.
Because, if you kept watching this sweet video of Yara cradling her belly, you noticed something vanish.
The bump. Yara showed off her flat abs. While a pregnant person can still have a relatively flat tummy for weeks (or longer) into a pregnancy, Yara is clearly indicating that she's not pregnant.
"Okay, you guys, I feel like I need to make an official statement," Yara stated in a follow-up video.
She slightly altered her face through a filter in ways that were frankly a little jarring, but she's gorgeous as ever. Behind the filter, we mean.
Yara shared that, after a bit of drinking, she had "loosened up" and posed while cradling a fake baby bump.
Almost anyone can intentionally stick out their abdomen by controlling the muscles of their torso.
Additionally, Yara revealed, she had gained a total of thirteen pounds.
That is not a great deal of weight to accrue over time, and we do not know when the weight gain began. Unless she gained that much in the past few weeks, it sounds very normal.
Yara explained that this, and not a pregnancy, is why some of her clothes fit a little differently right now.
She shared that she sometimes experiences bloating during weight gain.
We don't know the ins and outs of her body as well as she does. But weight gain is a normal part of being a person — and is extremely common for parents.
Anyway, no matter how it looks, she's not pregnant.
Yara posed for a photo, Jovi posed a snap without context, and people jumped to a conclusion.
Even so, she truly appreciated the tsunami of congratulations that came pouring into her mentions.
You know what? It's probably for the best. Yara and Jovi can make a decision about the right time to have Baby #2, and if that time will ever come.
Right now, they're not sure about where they will live long term. They may want to wait a while longer before Yara conceives a non-food baby.
It's probably reassuring to know that they will face a barrage of congratulations if and when they do have news to share.