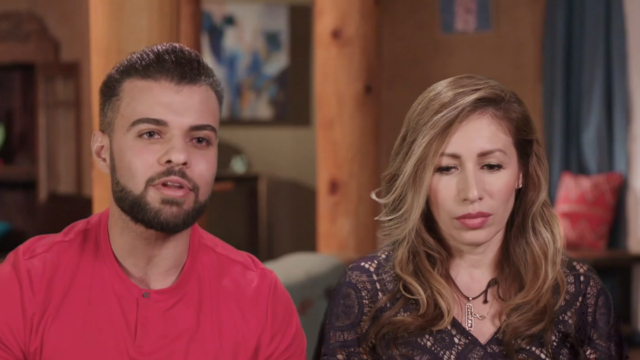 Despite so many warnings from friends, Yvette Arellano married Mohamed Abdelhamed.
90 Day Fiance watched the wedding over the weekend, but something overshadowed the "happy" nuptials.
Late last week, Mohamed's leaked texts revealed an alleged affair and green card plot. Plus, he badmouthed Yve and her son.
Some fans weren't sure if the texts are real, while others mocked Yve for "falling for" a scam. Now, Yve is speaking out.
For weeks, 90 Day Fiance viewers heard Mohamed Abdelhamed whine about wanting his green card.
Wanting to be able to travel to visit his mother is understandable. Wanting to be able to work is admirable.
However, more than once, he vocally prioritized his documentation over every detail of their wedding.
Mohamed didn't keep his complaints private. They weren't a nasty surprise shared only with the confessional camera.
He spoke to Yve about them. He even texted her about the idea of finding "another sponsor."
Yvette was tearful and devastated. She felt hurt and used.
Even after, at the very least, displaying some screwed up priorities, Mohamed managed to make nice with Yve again.
This was, of course, after Mohamed made other demands of her.
Yve had cleaned out her wardrobe, cut back on drinking, and eliminated pork from her diet for him. But it still wasn't enough.
Yve's friends tried to give her an "out" on multiple occasions.
Before the wedding, Rochelle reminded her that she herself had been a runaway bride — Yve could do that, too.
It's not an easy choice, but it might be better than marrying a man who seemed less interested in a wife than in a sponsor.
On Season 9, Episode 16, Mohamed even made a callback to his threat to find "another sponsor."
He "jokingly" referred to Yvette as his "sponsor" instead of his wife.
The intention may have been to laugh about past disagreements, but in light of what we had all seen, viewers weren't laughing.
Last week, a number of alleged text messages leaked.
We reported in greater detail about the messages at the time, describing what Mohamed allegedly wrote to a mystery woman.
Long story short, he vowed to go to her as soon as he had his green card, declaring that he couldn't stay with Yve long-term.
Mohamed had more to say, including some sexual messages to this woman — promising to keep her in bed for "days."
He also insulted Yvette and her son, Tharan.
Mohamed resented financially contributing to the home and he resented helping with childcare.
He even suggested that he wished that Tharan spent his days at a special needs childcare.
While childcare is often a necessity, not all children with developmental disabilities flourish in that environment.
Most disgusting of all was the palpable resentment in Mohamed's texts.
Of course, all of this is uncertain, as anyone could hypothetically fabricate text messages.
Though the texts appeared genuine at face value, many noted that Mohamed included details that Yve would recognize.
Yvette cannot break her NDA to directly confirm the texts. But she can, and did, share this on Monday:
Yvette shared an Instagram Story post about victim blaming.
It's the sort of message that people need to hear — but is it also her commentary on Mohamed's texts?
Let's face it: some people's reactions to the posts were to laugh at Yve for being hoodwinked by a toxic scammer.
It is possible that Yvette is implying that there was more than just scamming in their marriage.
At the same time, she could also be sharing an important PSA about victim-blaming and that the timing is just a coincidence.
But … given how explosive those texts were in the 90 Day Fiance fandom, we somehow doubt that.