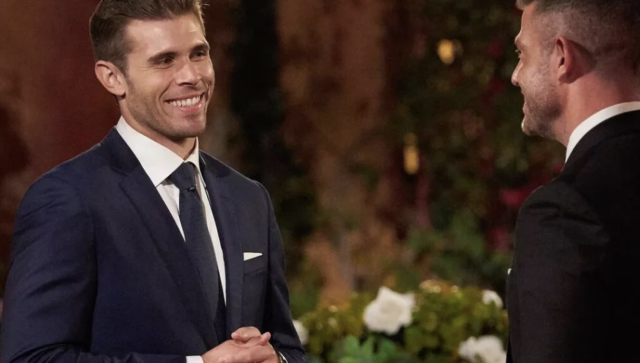 With Zach Shallcross' Hometown Round officially in the history books, his season of The Bachelor has entered its final stretch.
In what's likely his most controversial move thus far, Zach sent Charity Lawson home after seemingly hitting it off with her family during his trip to Columbus, Georgia.
Echoing the thoughts of countless viewers, Charity revealed that she was absolutely mystified by Zach's decision.
"It doesn't make sense," she said.
"It makes no f–king sense to me. Sometimes that's just the way life goes and it sucks, but it just means I'm one step closer to finding who I need to be with."
It sounds like Charity is optimistic for her future, but getting dumped on national TV is surely never an easy experience.
Fortunately, it's being reported that Charity will be the next Bachelorette, a development that certainly help her search for Mr. Right.
As for Zach, if you've been reading our Bachelor spoilers all season, then you already know who will receive his final rose.
If not, we won't ruin the ending for you here.
Suffice it to say, it's been months since filming wrapped, and Shallcross still believes he made the right decision.
"I think it's weird reliving it and watching it — it wasn't pretty all the time and it doesn't get very pretty at later stages," Shallcross said in a recent interview with People magazine.
"But all in all, call it cliche, but I truly do believe everything did happen for a reason," he added.
"It couldn't be perfect to get to where it's at in the end — and it may or may not have made it better or stronger at the end. But I do feel confident. Very confident, yes, absolutely. I've got a big grin on my face."
As for tonight's Women Tell All special, Zach says he was "very nervous" going into the night.
He adds that while he's "not a big fan of public speaking," he appreciated the "great opportunity" to provide closure to some of the contestants.
"I think my heart was beating through my throat like when I was just seeing everyone because it's been literally since doing the show since I've seen them," Zach says.
"I have no other other remark other than it was just kind of like those nerves of, like, night one coming again."
He continues, "All these beautiful women that are my exes are now staring at me and may or may not like me. Honestly, it was a cool experience, though to get to see them again."
Facing down a roomful of exes probably wouldn't be most people's idea of a "cool experience."
But Zach knew there would be tough times when he signed up to be the Bachelor.
And it sounds like it all worked out for him in the end!