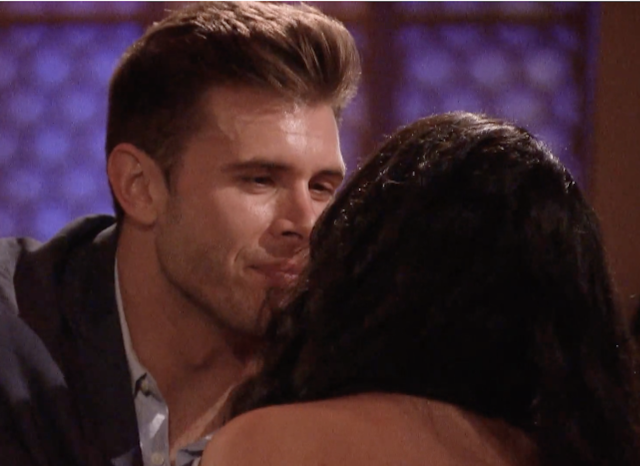 In a new sneak peek at the latest episode of The Bachelor, Zach Shallcross has a few questions.
For himself, really.
As you may recall, this year's Bachelor lead vowed awhile back to abstain from sex during Fantasy Suite week… an easy vow for one to make until one is actually faced with a Fantasy Suite.
And a gorgeous woman.
"I have something actually I do want to talk to you about. This week in particular, sex being off the table," Zach says to Ariel in a clip shared over the weekend by Entertainment Tonight, adding:
"Loving one person at the end of this and sharing that intimate moment should be saved for that moment of engagement, so that's how I'm looking into this week for everyone."
What a lovely sentiment, right?
It's a sentiment Ariel echoes, except, well… she sort of wants to take a visit to Pound Town with the handsome tech executive.
"I really want to be in the Fantasy Suite, and want to keep exploring this relationship, so I definitely want to have those physical moments as well," she says in a confessional.
When the aspiring couple arrives at the much-hyped private room, Shallcross begins to have these same thoughts.
He's only human after all, you know?
"She's just looking absolutely beautiful and I'm thinking to myself, 'Boy, oh boy. This is going to be difficult,'" Shallcross says his own confessional.
"I don't know. Every time we're together, there's this pull. What did I set myself up for?"
Viewers initially first heard about Zach's plan to be celibate for this Bachelor run rule during a midseason preview.
Later, a follow-up trailer revealed that Zach actually does break his own rule with one woman, although it didn't tell us if said woman is Ariel, Kaity or Gabi.
"Something really special happened. Waking up this morning, I've had this pit in my stomach," Zach says in the most recent preview.
"I feel like I let myself down and I feel like I let the women down by saying one thing and doing another."
Adds Shallcross in the aforementioned promo, whose season of The Bachelor is struggling in the ratings:
"Coming into this, I wanted to do the right thing. I went with my head and not my heart and that was the worst thing I could've done.
"I've caused pain and I've made mistakes, but true love is worth fighting for."
As for what else lies ahead?
You can visit our section of The Bachelor spoilers to find out, and you can also read what host Jesse Palmer said to ET below:
"Everything's about to turn onto its head. We're going to be involved in a situation that I don't think we've ever had on the show before.
"This is not what Zach had planned and he is going to have to dig deep to try to pull himself out of this.
"This is going to be more dramatic and more emotional by leaps and bounds versus anything that we've seen this year."