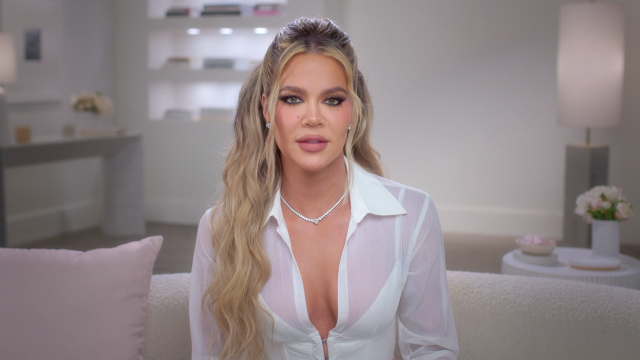 [ad_1]

This past summer, Khloe Kardashian revealed baby Tatum's face in a cute family scene on Hulu.
Tristan Thompson, her cheating ex and the father of her children, was living with her at the time. Fans recoiled with worry.
It was, she emphasized, a temporary situation.
Now, it's fall, and The Kardashians is back. Khloe says that not only is she not back with Tristan … but he has overstayed his welcome. It's time to go.
Yes, just a couple of months after The Kardashians Season 3 ended, the Hulu reality series has returned for Season 4.
(This is arguably an improvement over the nearly-one-year wait model, because so much can happen … and it often becomes old news)
When Season 3 left off, a home renovation crisis (including a collapsed roof during heavy rain) had Tristan and his disabled brother living with Khloe.
As Season 4 began, Khloe was out on a family vacation to Cabo, Mexico.
Kendall Jenner, Kim Kardashian, Kris Jenner, and Corey Gamble were dining with her.
This is when beautiful Kendall turned to her elder sister and asked a very pointed question: "Is Tristan's house done?"
The answer was no, apparently.
Khloe shared that Tristan was still living with her.
"No. It's been three weeks that he'll be at my house," Khloe noted. "And he was supposed to be there two."
Even though Khloe promised that she planned to nudge him out the door, she wasn't in a rush to kick him out. Not yet.
"I'll give him until a month before I say something," Khloe then told her family.
But she had more to say. Among other things, she wanted to clarify that he had not once again weaseled his way into her heart or into her bed.
"I am not back together with Tristan," Khloe very firmly told the confessional camera durin the premiere.
"Hate to break it to everybody," she added with sarcasm, then followed that up with a serious: "But I am not."
Her family understood that. But they had also been walking on eggshells about the topic of Tristan … or any relationship.
It was Kim's turn to speak to the confessional camera.
"Khloe is so sensitive," she accused.
"Like anything that had nothing to do with them," Kim characterized, "she would literally jump in and snap." Oh? How so?
"Like, it would be like, 'Oh, yeah have you guys seen this cute couple?'" Kim described.
Likely exaggering, she continued: "And she's like, 'Well don't think Tristan and I are a couple. We're not together, we don't hook up. I won't sleep with him.'"
To the confessional camera, Kim declared: "We get it. You guys are not together. No one thinks you're together. Relax."
Just for the record, a lot of people did at least worry that Khloe would get back with Tristan.
After all, she has done so, repeatedly, for years. Khloe's fans agonized as they watched her give him access to cheat on her again.
Worrying and thinking aren't synonyms. But there is certainly considerable overlap.
We should also note that, even if Kim is exaggerating, Khloe sounds downright defensive.
Which may mean that her fans aren't done worrying about her.
After all, there is (famously) such a thing as objecting too much. If you make a big deal about how something definitely isn't happening, people begin to suspect that it's definitely happening.
[ad_2]

Source link