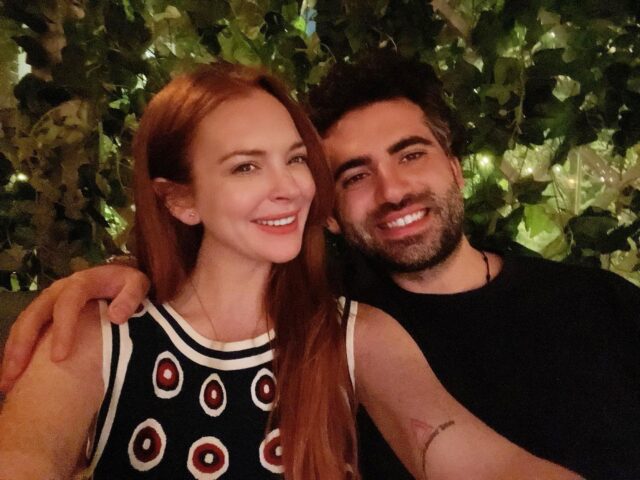 Sorry, fellas:
But Lindsay Lohan is officially off the market.
In celebration of her 36th birthday on Saturday, the veteran actress and long-time troublemaker surprised Instagram followers when she penned a tribute to boyfriend Bader Shammas.
And announced in the process that he's now her husband!
"I am the luckiest woman in the world," wrote Lohan to open her tribute, continuing as follows:
"You found me and knew that I wanted to find happiness and grace, all at the same time.
"I am stunned that you are my husband. My life and my everything. every woman should feel like this everyday."
We can't provide any details regarding the proposal or the wedding, but a rep for Lohan has confirmed that she and Bader Shammas are, indeed, wife and husband.
We learned in November 2021 that Shammas and Lohan were engaged.
"My love. My life. My family. My future," Lohan captioned a set of photos of herself and Shammas at the time.
A source subsequently told Us Weekly that the couple was not in a "rush" to exchange vows.
In February, Lohan shared an update on her nuptials when Extra host Rachel Lindsay asked her what sort of bride she thought she would be.
"I'm more low-key. Even on my birthday I want to make sure everyone else is good and then I can be okay. So I'll be more like that," Lohan told Lindsay a few months ago in response.
Focusing on the same romantic topic, Lohan continued:
"I'm looking at destinations.
"I've already started talking to a friend of mine about the dress. But I want to do things right and I want to pace everything.
"But it's an exciting time. I'm very girly, so…"
Bader is a businessman and the son of a Lebanese mom and Kuwaiti dad. He resides in Dubai, which is where Lohan has lived for the past few years.
The assistant vice president at Credit Suisse, he attended the University of South Florida… where he studied mechanical engineering — and was later a finance student at the University of Tampa.
Neither he nor his famous now-wife have talked much in public about their romance, but Lohan's unstable mother, Dina, told Us Weekly in April 2020 that Bader is "wonderful."
In June, Lohan did gush over her partner on his birthday, writing on Instagram last month:
"My love! You're not only a great man, an incredible person, you're my best friend. Thank you for you loving me back babe!
"I Love You So much! Happy Birthday."
Lohan, meanwhile, relocated to Dubai in 2014, which is where she met Shammas for the first time.
"I felt so relieved when I moved everything over from London to Dubai and I saw everything in place," the polarizing star told W magazine in a February 2018 interview. "
"It's a cleansing of your head, which is what I needed, and it took me a while to do it…
"I would love to own a place in New York, and that's something I will look into in the future, but right now I'm okay with where I live."