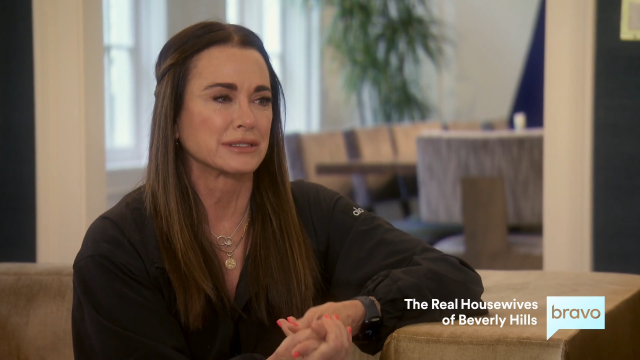 [ad_1]

Remember earlier this year, when reports came out about Kyle Richards and Mauricio Umansky separating after decades of marriage?
They remember. And we're all getting a reminder, because Bravo's cameras were there to capture every moment.
The Real Housewives of Beverly Hills is returning for Season 13. We're getting a new Housewife, some familiar faces (hi Denise Richards!), and a lot of drama.
And Kyle is going through the wringer. Fortunately, Morgan Wade is there for … emotional support.
The Real Housewives of Beverly Hills will return for Season 13 on October 25.
Weeks ahead of the premiere, Bravo has released a full trailer, which you can watch below.
The first order of business for the Housewives, it seems, is processing what they're hearing about Kyle Richards' marriage.
We see Garcelle react to the headlines. And then we see Dorit Kemsley.
She's not only speaking on the phone, but discussing it all with her husband, PK.
But, obviously, Kyle has also seen the headlines. And she presumably knows more about the situation than anyone.
This being a teaser trailer, it's all very vague.
But we see a tearful Kyle seek comfort from a friend.
And she gets it. Erika Jayne is there to offer emotional support during this crisis … even if viewers don't know every detail yet.
As viewers know, Erika Jayne is no stranger to giving people hell when someone's backed her into a corner.
That is more or less her advice for Kyle.
"There are only two people in this marriage," she counsels. "Everybody else's opinion … can f–k off."
As is almost always the case with these trailers, a good portion of the early seconds of the trailer lack context.
We see random flashes of the Housewives having fun, bantering, going on adventures.
That's never the meat of the season. But if it were only drama, tears, and fights, the show would be difficult to watch.
So yes, we need these moments of levity — even in the trailer.
They help to build tension ahead of the conflicts and pain.
Also? It looks like some of the Housewives really, really needed to unwind.
There are actually a number of horny moments in this trailer.
While some of the Housewives are happily married (or at least pretend to be happy), others are very single.
So while some get down and dirty with some very hot guys, others just watch. But their reactions say it all.
You know what's really fun in this trailer?
Seeing the banter between Garcelle and Erika specifically.
Whether they're discussing the prospects of double-teaming a hot chef or salacious ways to pay for a ring, we're really enjoying this.
Obviously, the trailer is right here.
But rest assured that our analysis will continue.
We've covered a number of these events as they unfolded in real time. It will be enlightening to see them from the perspectives of the Housewives.
The (major) cast trip this season is to Barcelona.
It appears that Sutton suggested it.
Real talk: the cast trips are just part of the job. Their fights and conflicts are real, but these goofy group outings are just a Bravo staple.
We actually covered their Barcelona trip this spring.
In very early May, glimpses of the cast in Spain drew attention because Kyle looked extremely slender.
Ozempic rumors emerged. Honestly, Kyle isn't the only Housewife who is abruptly looking much, much more slender. (Just look at Sutton these days!)
One important detail to note is that there is a new Housewife in the mix.
We see here in multiple moments.
Her name is Annemarie Wiley. And it looks like she and Crystal Kung Minkoff might not be getting along.
Perhaps the trailer is being misleading. Only time will tell.
But it will be interesting to see how she meshes, or does not mesh, with everyone on the cast.
She is a neighbor of Kyle's. And the two of them are friends.
Speaking of conflict, there are also ghosts of Housewives past who come to visit.
Most prominently, we see Denise Richards.
Remember, she was part of the cast just a couple of years ago. But when her castmates heard a claim that she'd slept with Brandi Glanville, she freaked out and turned what could have been a one-off story into a huge thing.
But notice that Camille is with her.
(We hope that she does some dancing)
Denise gets into it with Erika Jayne. Erika, as you may recall, ended up having a central conflict (her divorce and her husband's alleged crimes) in the wake of Denise's departure.
It looks like Denise and Erika get into it immediately.
Erika brings up Denise's OnlyFans. We're not sure how this could be a negative. "People want to see me naked and will pay for the privilege" is pretty inherently positive.
And Denise accuses Erika of being "evil." Erika's so tired of this, and doesn't even argue.
But, of course, the main course of the trailer is Kyle's marriage to Mauricio.
In addition to the headlines claiming that the two were separating, there were other rumors.
Did someone cheat? If so, who cheated? Some headlines claimed that it was Kyle.
"I'm just glad it's you that's out there having an affair," Mauricio jokes during the trailer. Clearly, he's not taking it seriously.
Kyle then alludes to cheating rumors about Mauricio, replying: "For once it's me."
Those rumors claim that Kyle was having an affair with country music singer Morgan Wade. And yes, she shows up in the trailer, too.
Kyle's castmates have picked up on some unexpected vibes.
For one thing, Kyle's sometimes not wearing her wedding band. After decades of marriage, people tend to notice.
And for another, she tattoos her own initial onto Morgan's arm. That's … a very intimate act of what we'll generously call "friendship."
Ultimately, Kyle holds a tearful family meeting.
During it, she affirms the strength of their family.
Perhaps this is all very misleading. Or maybe there was a lot more going on behind the headlines earlier this year than anyone realized.
[ad_2]

Source link