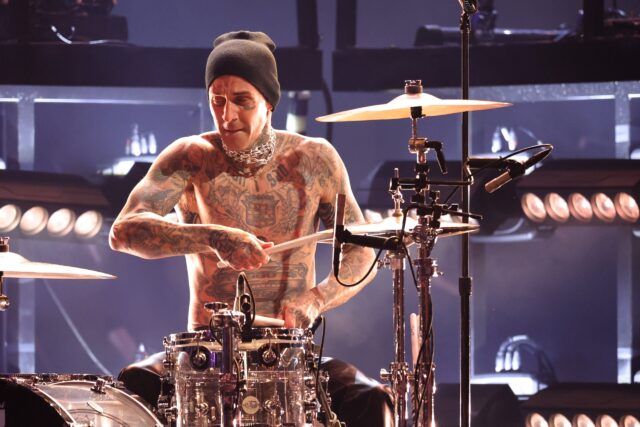 Travis Barker has released a statement in the wake of what he admits was a "life-threatening" medical scare
For those who missed it, the musician was hospitalized this past Tuesday night, wth Barker's daughter even asking folks to pray for her dad.
Travis even Tweeted "God save me" at one point during the ordeal.
Scary, scary stuff.
Following reports that wife Kourtney Kardashian was by his side, along with claims that Barker was suffering from pancreatitis, we now have confirmation of exactly what transpired.
From Travis Barker himself.
"I went in for an endoscopy Monday feeling great," wrote the drummer on Saturday afternoon.
""But, after dinner, I developed excruciating pain and have been hospitalized ever since."
Concluded Barker:
"During the endoscopy, I had a very small polyp removed right in a very sensitive area, usually handled by specialists, which unfortunately damaged a critical pancreatic drainage tube.
"This resulted in severe, life-threatening pancreatitis."
Again: scary, scary stuff.
The DTA Records founder concluded:
"I am so very, very grateful that with intensive treatment I am currently much better."
Moments after her spouse broke his silence, Kardashian shared her own statement via Instagram Story.
"Oh what a scary and emotional week it has been. Our health is everything and sometimes we take for granted how quickly it can change," she wrote on Saturday.
"Travis and I went in for a routing endoscopy together and he ended up with severe, life-threatening pancreatitis."
The mother of three then thanked their fans for the outpouring of affection during this challenging time.
"I am so grateful to God for healing my husband, for all of your prayers for him and for us, for the overwhelming outpouring of love and support," she wrote.
Kardashian wrapped up by thanking Barker's medical team "for taking such wonderful care of my husband and me during our stay."
On June 30, Barker's ex, Shanna Moakler, even issued her own statement about her Barker's medical scare, writing online:
"Thank you to everyone who has reached out with concern to my ex and father of my children.
"I know he is in great hands and surrounded by loving support and the best medical teams available and his beautiful wife Kourtney."
For the frightening record, this was not Travis' first major hospitalization.
In 2008, he actually survived a private plane crash that killed four people and left him with third-degree burns on 65 percent of his body.
Barker was hospitalized for three months and underwent 26 surgeries as a result of this accident.
We're glad he ended up okay then, and we're glad he seems to be okay now.