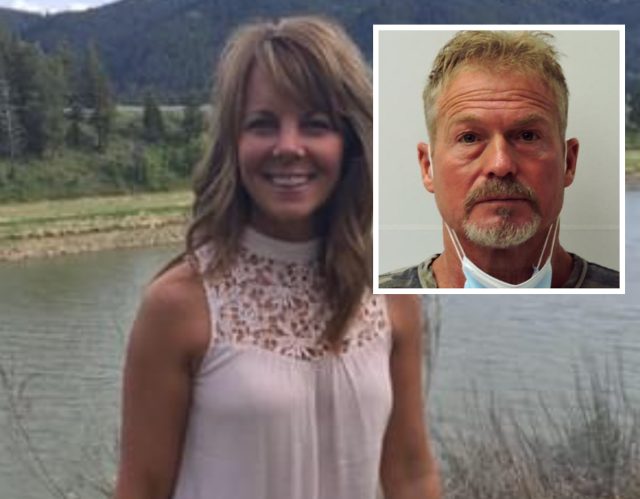 [ad_1]

Huge update in the case of missing mother Suzanne Morphew.
For those who don't recall, Suzanne mysteriously disappeared while on a bike ride on May 10, 2020 — Mother's Day of that year. Her two daughters, Mallory and Macy Morphew, who had been on a camping trip in Idaho, and husband Barry Morphew, who was 140 miles away in Denver for a landscaping job, had texted to wish her a Happy Mother's Day, but they never heard back from her.
When no one could get a hold of Suzanne, she was reported missing and a search for her began on May 11 of that same year. During the investigation, her bike was discovered at the bottom of a ravine near their home in Salida, Colorado. And it had been wiped clean of any DNA! What was more suspicious about the discovery? Police believed the scene was completely staged! And that wasn't the only thing — or we should say person — cops were suspicious of.
Related: Cher Allegedly Hired Men To Kidnap Son To Stop Him From Reconciling With His Wife
Despite Barry begging for help in finding his wife, he ended up the prime suspect. He was arrested and charged with first-degree murder one year after the disappearance. And some sketchy actions from Barry backed those charges…
As we previously reported, Barry claimed to law enforcement he went to bed at 8:00 p.m. at the hotel in Denver the night Suzanne went missing. However, the data from his truck's computer said otherwise! Investigators alleged that Barry's vehicle moved on his property at 9:30 p.m. that day. He then apparently drove past the location where Suzanne's bike helmet was found on his way to a landscaping job the next day!
It was later revealed that before Suzanne's disappearance, the couple were arguing over finances — and an affair she had with a former high school boyfriend. In fact, she had texted Barry on May 6, four days before she went missing, to tell him she wanted a divorce! The message read:
"I'm done I could care less what you're up to and have been for years. We just need to figure this out civilly."
Barry then threatened suicide in response, saying:
"When I'm dead, which won't be long, you guys will be taken care of."
Whoa.
What an abusive move. But that's not all. Per The Sun, an arrest affidavit revealed Barry listened to several podcasts about some true crime cases that had chilling similarities to the disappearance of Suzanne. A spy pen left in his truck by Suzanne picked up on the fact that Barry was listening to the Forensic Files podcast episodes about the murders of Mary Lee Wilson in 1977, Donna Payant in 1981, and Vicki Lynne Hoskinson. That last woman disappeared following a bike ride – just like Suzanne.
Another podcast episode he listened to talked about the case of Walter Scott, who was shot in the chest by his wife's lover James Williams. Williams had been convicted of killing his ex-wife, Sharon, after staging a car crash to make it seem like an accident happened.
Super eerie, right? All signs seemed to point to Barry having something to do with Suzanne's disappearance. But in a shocking twist, the charges against him were dropped in 2022, just days before the trial was to begin! The judge granted the motion to dismiss the case without prejudice (meaning he could be charged again) since the prosecution didn't have enough evidence, including a body, for a conviction.
But that doesn't mean Barry is in the clear. He's still considered the prime suspect, and charges could be slapped against him later down the line, especially if they find any more damning evidence now that Suzanne's body has been found.
Yeah, you read that right! Suzanne's remains have finally been found three years after her disappearance. The Colorado Bureau of Investigations discovered a body on Friday while investigating another unrelated case near the town of Moffat, three hours away from Denver and 45 minutes away from the Morphews' house in Maysville.
The El Paso County Coroner then confirmed Suzanne's identity on Wednesday. Following the discovery, Chaffee County Sheriff John Spezze said in a statement there are now a lot more questions about what happened to the mom of two that they cannot answer at this time, adding:
"While this case has garnered attention from around the world, it has touched our community and the sheriff's office deeply. We have never stopped our investigation and will continue to follow all leads in pursuit of justice for Suzanne."
As for Barry? His attorney Iris Eytan reacted to the news on his behalf Wednesday, saying:
"Barry is with his daughters and they are all struggling with immense shock and grief. They had faith that their wife and mom would walk back into their lives again. The news is heartbreaking."
Barry, who is currently suing 17th Judicial District Attorney Linda Stanley and other officials for $15 million over the murder charges, then blasted authorities for never notifying his daughters about Suzanne's body discovery. Eytan said:
"Neither the DA nor the authorities notified Mallory and Macy Morphew about the recovery of their mom. From what we know, Barry is as innocent as he was from Day one. DA Stanley and law enforcement got it wrong. We hope the authorities will quickly admit their wrongful persecution of Barry, an innocent man, to treat the Morphews like victims they are, and charge the person(s) responsible for Suzanne's killing."
Even a source close to Barry even told The US Sun that the Morphews' loved ones are hoping his name will be cleared soon — given her remains were found hours away from Denver, where he'd been staying at the time of her disappearance:
"It's a relief but also a great sadness. We now know she's not alive (anymore), which we'd desperately been hoping (for). But we hope that Barry's name can be cleared because of the location where she was found and the timing of it all."
Hmm…
Could we see charges be made against Barry again? Or will he finally be exonerated? We'll have to wait and see. But for now, no arrests have been made, and no other details about the body have been released.
Reactions to the latest update, Perezcious readers? Let us know in the comments below.
[Image via Chaffee County Sheriff's Office, Suzanne Morphew/Facebook]
[ad_2]

Source link